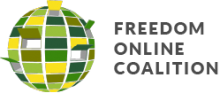 Description
The Freedom Online Coalition (FOC) is an intergovernmental partnership committed to protecting human rights and fundamental freedoms proclaimed in the Universal Declaration of Human Rights. Since its founding in 2011, the FOC, currently consisting of 32 governments, has been a unique multilateral mechanism, breaking down traditional geo-political silos and focusing on relevant policy issues in the digital context, and remains the only governmental initiative which deals with Internet freedom. This year marks the 10th Anniversary of the FOC, with Finland taking the Chairship, as the Coalition focuses on the role of governments in addressing the opportunities and challenges around human rights and Internet governance in the next decade.
In recent years, there has been an increased dependence on the Internet for various services and civic engagement, additionally exacerbated by the coronavirus pandemic, coupled with a concerning trend of authoritarian regimes abusing this dependence and harnessing digital technology for political repression. The FOC seeks to present a competing, inclusionary model for Internet governance to the ones promoted by authoritarian governments, and forge pathways to safeguard democracy and universal human rights online and offline in the 2020s. To tackle the growing threats to Internet freedom, the FOC commits to working together, and all others that share the views of the Coalition, to support the Internet freedom agenda and protect a free, open, secure, interoperable Internet, ensuring a human-rights respecting online environment.
The FOC Village Booth will aim to communicate how the FOC has implemented its commitments and strived to drive concrete policy solutions through the shaping of global normative language through issuing more than 20 joint statements since its founding via diplomatic coordination and multistakeholder engagement. The FOC Village Booth will showcase 10 years of FOC joint statements, with recent examples including:
The Joint Statement on Spread of Disinformation Online;
The Joint Statement on Artificial Intelligence and Human Rights;
The Joint Statement on Digital Inclusion;
The Joint Statement on COVID-19 and Internet Freedom;
The Joint Statement on the Human Rights Impact of Cybersecurity Laws, Practices and Policies.
Relevant materials will be available to display the Coalition's core priorities and publications, with the online presence of representatives from the FOC Support Unit to encourage conversation on the FOC's mission.