The Sixteenth Annual Meeting of the Internet Governance Forum (IGF) was hosted in a hybrid format by the Government of Poland in Katowice from 6-10 December 2021, under the overarching theme: Internet United. The IGF 2021 Outputs are available. 
10,371 stakeholders from 175 countries participated in the 16th IGF. At the IGF venue in Katowice, 2,734 participants collected their badges. The majority of the participants came from Poland, Nigeira, USA, Germany, India, UK, Brazil, China, Ghana and Russia. The meeting recorded over 15,000 connections to sessions hosted over 750,000 minutes. 67% participants indicated to be the first-time comers. Gender representation was 52% male, 47% female and 1% self-identified as other. About 2% of registered participants indicated to be members of parliaments. The forum also saw around 1% of registered media representatives.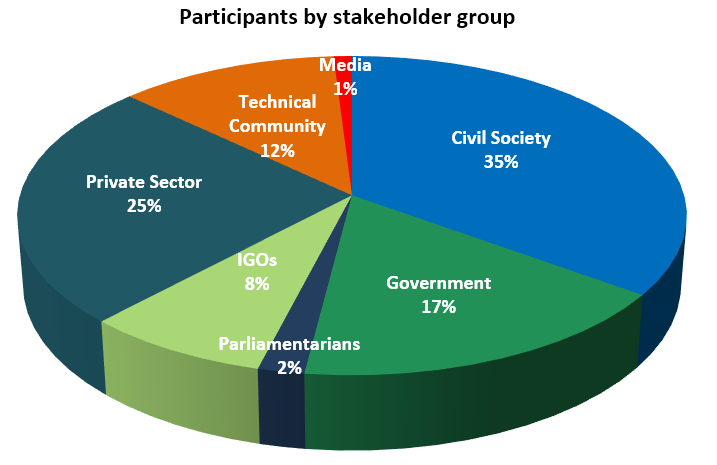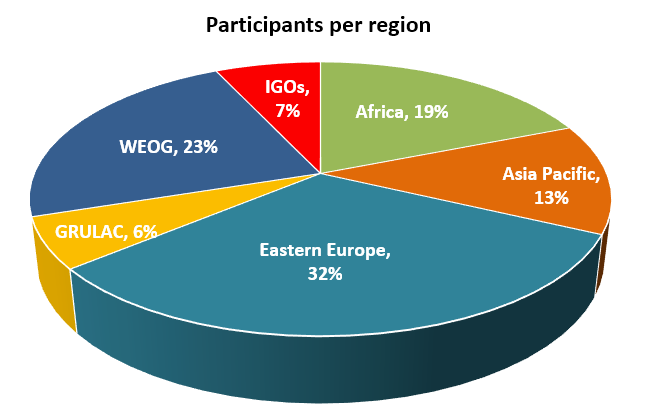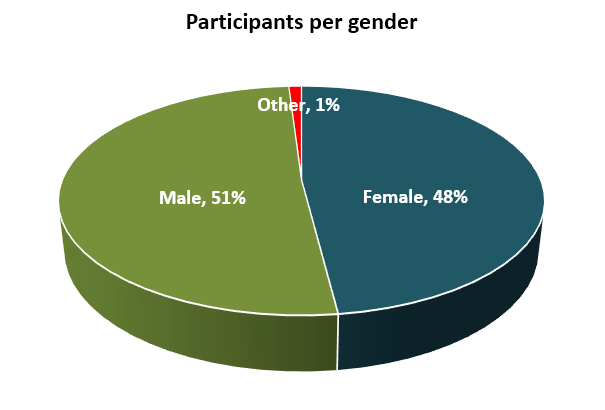 The IGF website received more than 350,000 connections. Among countries with the highest number of connections were: Poland, United States of America, United Kingdom, Germany, France, The Netherlands, India China, Switzerland and Brazil. 
IGF 2021 sessions were also streamed live at the IGF's YouTube and Facebook sites. All IGF 2021 sessions are archived at the IGF YouTube channel. Over 13,818 participants viewed the session videos on YouTube. The highest number of viewers during the IGF 2021 time-span came from India, Brazil, USA, France, Poland, Germany, Russia, UK and Bangladesh. 
Social media activity is estimated to have over 9,600 mentions of the IGF 2021, potentially reaching 728 million accounts and evoking 23,300 engagements (clicks, likes, shares, comments etc.). The headline video was viewed around 7,800 times.
Close to 2,300 media articles are produced in 85 countries. 
The meeting featured 318 sessions. Breakdowns per session type were: 1 opening session, 8 main sessions, 83 workshops, 35 open forums, 28 town halls, 10 launches and awards, 30 lightning talks, 6 networking sessions, 18 DC sessions, 7 NRI sessions, 72 pre-events (Day 0 sessions), 9 high-level leaders track sessions, 4 parliamentary track, 1 global zouth summit, 2 BPF sessions, 2 PNs sessions, 1 open mic and 1 closing session.
Organizations from five different continents joined the IGF Village with 23 booths to share their work missions with the Forum's participants. The Village included representatives from all key stakeholder groups: governments and intergovernmental organizations, private sector, civil society and technical community.
There were also 39 remote hubs organized around the world: 59% in Africa; 13% in Latin America and Caribbean; 8% in Asia Pacific; 13% in WEOG and 8% in Eastern Europe.
Regarding participation by level of development of the country, based on the latest available HDI Index, there were about 64% from developed countries -classified as "very high", and 36% from developing countries, not classified as "very high", with the stakeholder distribution as illustrated below.

Below are other visual breakdowns of the IGF 2021 overall participation, as well as the thematic balance within the agenda.