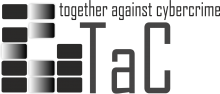 Description
Social media: @Esafetyglobal & @globalyouthigf
Our main task is to assist victims of online illegal activities,
develop educational tools on online safety,
conceptualise and implement the awareness-raising activities on cybersecurity for different stakeholder groups.
In 2008 we realised the need for civil society action in the fight against cybercrime. In January 2010, TaC International has been born.
TaC– Together against Cybercrime Internationalis a non-profit anti-cybercrime organisation born in France with its headquarter in Geneva.
We are working internationally.
TaC International is the Founder of the Youth IGF.  www.youthigf.com