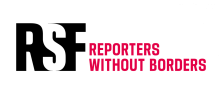 Description
Reporters Without Borders, also known under its French name Reporters sans frontières (RSF), is an international non-governmental organization defending freedom, independence and pluralism of journalism. RSF would like to present its international work for freedom of information and press freedom, specifically by providing information about its different activities:
The World Press Freedom Index, published every year by RSF, which lists 180 countries and regions according to the degree of freedom enjoyed by their journalists.
Current campaigns on the issue press freedom such as #FreeAssange campaign to oppose the extradition of Julian Assange to the United States, #JusticeforJamal campaign calling for public support urging G20 capitals to obtain concrete press freedom improvements in Saudi Arabia, and #HoldTheLine campaign calling for public support for Maria Ressa and independent media in the Philippines.
The Digital Helpdesk, which provides digital security advice and tools to journalists worldwide.
The International Initiative on Information & Democracy, initiated by RSF, aims at bringing democratic guarantees to the global communication and information space. The Initiative has led to two main outcomes. The endorsement of the International Partnership on Information and Democracy by 38 countries which defines the principles of the global communication and information space and calls structuring platforms to implement them. The creation of the Forum on Information and Democracy by 11 organisations from civil society to expand these principles and issue concrete recommendations for regulation and self-regulation.
The Journalism Trust Initiative (JTI), a media self-regulatory initiative designed to promote trustworthy journalism. The initiative has been launched by Reporters Without Borders (RSF), and its partners Agence France Presse (AFP), the European Broadcasting Union (EBU) and the Global Editors Network (GEN). JTI is designed to promote journalism by adherence to an agreed set of indicators for trustworthiness of journalism and thus, promote and reward compliance with professional norms and ethics. JTI is a collaborative standard setting process according to the guidelines of CEN, the European Committee for Standardization. More than 120 experts have contributed to this CEN Workshop Agreement (CWA) that was finally published on 19 December, 2019.
Collateral Freedom operation to unblock independent news sites censored in their own countries by authoritarian or dictatorial regimes.
Mark you calendar for our IGF 2020 Workshop: Building Digital Security for Journalists
Monday, 16 November, 2020 - 09:30 to 11:00 CET
Read More: