News Image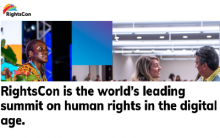 The IGF Best Practice Forum (BPF) on Cybersecurity is getting its own workshop at RightsCon 2022! The session takes places on 9 June at 21:15-22:15 UTC. It will discuss past iterations of the BPF as well as collect input for this year's work. See the full description and link to register and join below.
"CyberNorms work, kind of? Building a multidisciplinary community of cybernorms practitioners"
The question of whether cybernorms have real-life impact has been debated for many years by those working to ensure a more peaceful and secure cyberspace. Academics, policymakers, civil society, the info-sec community and those directly impacted by cyber incidents work in different spaces and communities and rarely come together, resulting in a lack of understanding of how norms developed in forums like the UN are being implemented and used in a practical sense. Over the past few years, the IGF's Best Practice Forum has sought to bridge these gaps and has brought different communities of practice together to build action-oriented research that sheds light on the evolution of cybernorms, including what cybernorms are working, how and what can be done to improve implementation by for example integrating the findings of cyber incident mitigation, including its impact on victims. 
Its most recent research found that cyber norms we have today would have helped mitigate many of the notorious cyber events of the past. However, each analysis uncovered a missing nuance from deeper stakeholder involvement, to application of existing legal frameworks. 
This session will first 1) showcase the findings of the BPF's latest research 2) gather participant input on ways to expand the research and portfolio of analysis and 3) and bring in the voices of more of those impacted by cyber incidents. In this way, it will continue to build and strengthen bridges between different communities working to make cybernorms work effectively. 
We would like to learn from participants 1) how the existing research and findings could be useful to them 2) what gaps exist that they think would support more effective human-centric cybernorm implementation 3) ways in which they could help (e.g by supporting or developing an ongoing database) of cybernorms.