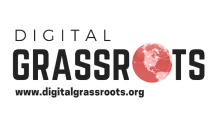 Description
At our booth, we will present a curated collection of DIGRA items, such as stickers, pens, and t-shirts, thoughtfully designed to raise awareness about our cause. In addition, we will offer informative brochures that provide a glimpse into our organization, our diverse global community, its activities, and our programs.
We will also exhibit our 5-year impact report "Unstoppable Together", which spotlights the community stories and the journey of our organisation from the IGF in Geneva 2017, which marked the birth of Digital Grassroots. We also plan to exhibit reports that highlight the work and advocacy efforts of our community members: young Internet leaders from over 60 countries in the global south.
Furthermore, we plan to present our Digital Rights Monopoly Game and promote our organization's participation as an Action Coalition Leader for Technology and Innovation at the UN Women Generation Equality Forum for Gender Equality. Through this opportunity, we aim to contribute to the dialogue surrounding gender equality, underscoring the significance of technology and innovation.